Enrollment for this course is closed.
This course is a supplement to the primary Maximum Freedom Alpha Male 2.0 Course. This special course has material specifically for men who are between the ages of 18 and 34. It comprises videos full of techniques that address the issues, problems, desires, and needs you have as a younger guy. It is additional, new information that is not in the main course.

Here's what you get in this special course:
Oneitis management for younger guys. Younger men are more prone to oneitis and woman-drama than older men. I will go over specific techniques you can use to mitigate this, above and beyond what I talk about in the main course.
College issues. Whether or not to go to college, or what to do if you're already in college are complicated issues today. I will go over several strategies to help you navigate this so you don't waste your time or your life.
Dealing with your parents. The goal of the young Alpha 2.0 is to detach from his parents, logistically and financially, as soon as possible, while keeping "family drama" to a minimum. I will help you do this while still keeping your relationship with your parents a positive one.
Moving out on your own. I will help you lay out a specific battle plan to help you move out of your family or roommates' home as fast as possible.
Not Getting Sucked In: Porn, Drugs, and Video Games. These three things are soooo seductive today. With all the problems in the world, it's so easy to get consumed with them. I'll show you how to manage these in your life so you can be a happy Alpha 2.0 who has fun without getting consumed.
The Perpetual Traveler. As a younger guy, you can do something most older man can't: be a perpetual traveler. Traveling the world, going from one location to the next, whenever you want. It's an exciting life. I will show you how to navigate it.
One extra day of coaching with me. When you purchase the main Alpha 2.0 course, you get one day of email coaching with me. If you purchase this course as well, you will get another day of coaching for a total of two full days.

Course Curriculum
Alpha Male 2.0 Lifestyle for The Younger Man
Available in days
days after you enroll
Frequently Asked Questions
Is this course available in the installment plan?
Yes. If you purchase the main course under the installment plan, instead of making 5 monthly payments of $397, you make 6 payments. When you're done making 5 payments, you get access to the main course. When you make your optional sixth and final payment, you will receive this course as well. Remember that this course is nonrefundable under any installment plan.
Does the 30 day money-back guarantee apply to this course just like the main one?
Yes. It works the same way and under the same conditions. Refer to the main course page for details.
Do prior-course and SMIC discounts apply to this course too?
The SMIC discounts apply to this course, but no other discounts apply. Refer to FAQ on the page for the main course for details on how the SMIC discounts work.
Can I buy both the younger man AND older man add-on courses?
Yes, and you get a discount of $147 if you do so (but not on the installment plan). Each add-on course is $397, but if you want both, you only pay $647 total.
Your Instructor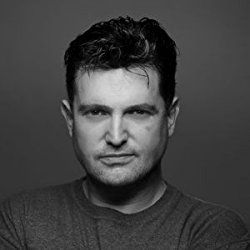 Caleb Jones, a.k.a. Blackdragon, is an entrepreneur who runs three location-independent Alpha 2.0 companies that provide him a solid six-figure income that only takes 15 hours a week to maintain. He is a business consultant, author, speaker, dating and relationships expert for men, and world traveler. Over his 25+ year career as a professional consultant, he has worked with hundreds of companies large and small in scores of industries all over the world. His blogs have over a million readers per year. He has written seven books which have sold hundreds of thousands of copies. He teaches men how to live lives of maximum freedom (The "Alpha Male 2.0 Lifestyle"), how to start and maintain location-independent businesses, and how to maximize freedom-based relationships with women. He also owns a technology services marketing company.