Enrollment for this course is closed.
This course is a supplement to the primary Maximum Freedom Alpha Male 2.0 Course. This special course has material specifically for men who are between the ages of 35 and 80. It comprises videos full of techniques that address the issues, problems, desires, and needs you have as an older guy. It is additional, new information that is not in the main course.

Here's what you get in this special course:
Getting to high income. The primary Alpha Male 2.0 financial baseline is $75,000 per year in location-independent income. In this course, this is expanded to $200,000 per year or more. I cover techniques on how to get your income this high while still keeping it location-independent.
Dating younger women. "Younger women" is defined as women more than 10 years younger than you. I cover detailed strategies regarding the dating phase and the relationship management phase with younger women.
Advanced investment strategies. As an older man you probably have a higher net worth. Investing is also more important as you age. I have never, in my entire life, lost money in my investment portfolio in a calendar year. I'll give you the details on exactly how I do it, above and beyond what I talk about in the main course or at my blogs.
Maintaining libido. If your sex drive has declined as you age, or if it was never high to being with, I will give you some techniques I've learned from doctors (though I am not a doctor and I do not render medical advice) on how to get your sex drive back up into a healthy range.
Raising children. Being an Alpha Male 2.0 dad is quite different than being a beta dad or Alpha 1.0 father. I'll tell you how I've raised my kids under an Alpha 2.0 model, above and beyond what I talk about in The Unchained Man.
Sugar daddy game. Only for older men with higher incomes, sugar daddy game involves getting to sex very fast with attractive younger women. I cover specific sugar daddy game techniques I have not covered anywhere else.
Anti-aging. The Alpha Male 2.0 can't start looking like shit just because he gets older. A lifetime of adventure, Mission, and nonmonogamy means he needs to keep his youthful appearance up for as long as he can. I've done a LOT of research on this and I will give you specific techniques on how to keep Father Time away.
One extra day of coaching with me. When you purchase the main Alpha 2.0 course, you get one day of email coaching with me. If you purchase this course as well, you will get another day of coaching for a total of two full days.

Course Curriculum
Alpha Male 2.0 Lifestyle for The Older Man
Available in days
days after you enroll
Frequently Asked Questions
Is this course available in the installment plan?
Yes. If you purchase the main course under the installment plan, instead of making 5 monthly payments of $397, you make 6 payments. When you're done making 5 payments, you get access to the main course. When you make your optional sixth and final payment, you will receive this course as well. Remember that this course is nonrefundable under any installment plan.
Does the 30 day money-back guarantee apply to this course just like the main one?
Yes. It works the same way and under the same conditions. Refer to the main course page for details.
Do prior-course and SMIC discounts apply to this course too?
The SMIC discounts apply to this course, but no other discounts apply. Refer to FAQ on the page for the main course for details on how the SMIC discounts work.
Can I buy both the older man AND younger man add-on courses?
Yes, and you get a discount of $147 if you do so (but not on the installment plan). Each add-on course is $397, but if you want both, you only pay $647 total.
Your Instructor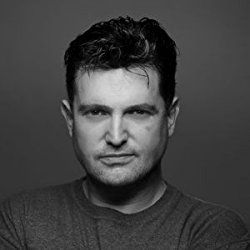 Caleb Jones, a.k.a. Blackdragon, is an entrepreneur who runs three location-independent Alpha 2.0 companies that provide him a solid six-figure income that only takes 15 hours a week to maintain. He is a business consultant, author, speaker, dating and relationships expert for men, and world traveler. Over his 25+ year career as a professional consultant, he has worked with hundreds of companies large and small in scores of industries all over the world. His blogs have over a million readers per year. He has written seven books which have sold hundreds of thousands of copies. He teaches men how to live lives of maximum freedom (The "Alpha Male 2.0 Lifestyle"), how to start and maintain location-independent businesses, and how to maximize freedom-based relationships with women. He also owns a technology services marketing company.